Purchased By:
In honor of Stuart Gunn MacMichael & Dakota White Buffalo
    Michael Schine
In honor of Molly
    Terry Abrahams
Welcome Theo Roth
    Cindy Spahn
In honor of Lucca
    Elizabeth Shalett
In honor of Russell, Scruffy, Fasty, Rusty, Shekit
    Anonymous
In honor of Neiman Marcus
    Marsha Sherman Fisher
In memory of Shamrock and Marley
    Elaine & Geoff Gross

In honor of Nadar, Sister, and Pussycat
    Lawrence "Larry" S. Greenfield

In honor of Isabella
    Stacy McNally

In honor of all pets
    Jill Hekkanen

In honor of Gracie and memory of Lady
    Cindy Gornbein

In honor of Alfie – puppy-in-training for Southeastern Guide Dogs
    Karen Haubenstock and Artie Jacobowitz
In honor of Smokey, Kelly and Trixie
    Suzy and Peter Duic
In memory of Samantha and Pollyanna and to give doggie kisses to Riley, our Grandpuppy Golden Doodle!
    Norman and Dana Melnick
---
What's Needed for Our Seder Plates
Matzoh – Sold to
Andrea Graham & Geoff Simon 

Charoset – Sold to
Anonymous

Maror/Bitter Herbs – Sold to
Bob & Nadine Pressner

Karpas/Parsley – Sold to
Anonymous

Eggs – Sold to
Steve Present

Oranges – Sold to
Lili & Barry Kaufmann

 
The wine is being graciously donated by
Dr. Barry Levine & Gina D'Angelo
---
Donations Toward Production Costs

Every dollar donated to help produce this wonderful event is one dollar more we will
donate to Tampa Jewish Family Services.
Please help us with the production costs by donating to music, sound, printing and more.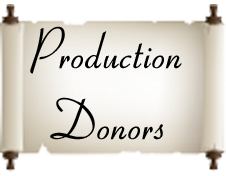 Rande Friedman – Production costs




 Anonymous – Production costs




 Lynn Heller – Music




 Paula Zielonka – Haggadah




 Sarah and Gary Supnick – Production costs




 Anonymous – Production costs




 Anonymous – Sound